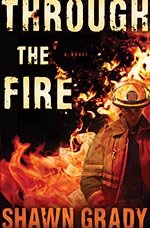 Last night, I began tearing apart my office, looking for a book to help my youngest with a report. All I have to show for it now are books stacked around my chair ~ but not the one I was looking for!
What I did find, however, were some books by authors I love. They're gently used. Actually, they appear quite new, even though I read them. So I'd like to pass them along to some of my readers.
The first two I'll give away are
Facelift
by the amazing and quirky Leanna Ellis and
Through the Fire
by Shawn Grady, a firefighting friend who also writes terrific stories. Click on the titles to read more about them.
To enter, leave me a comment with the title you'd like to win and the answer to this question:
What did you have for dinner last night?
(This will serve a two-fold purpose as I'm often out of meal ideas ... ;)